Northeastern Junior College – Sterling, CO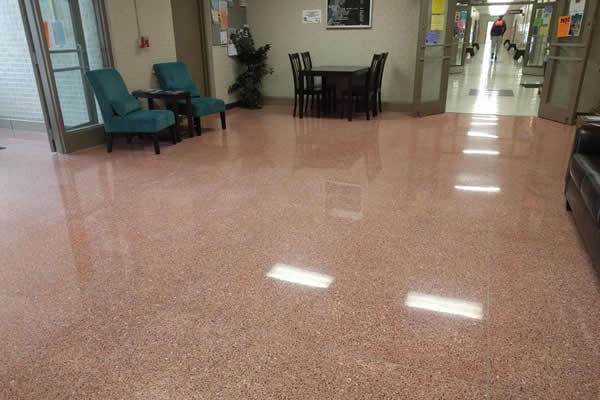 This is the terrazzo floor 1 year later after polishing.
The Process
We did our CFS polished system on the floor which included hardening the cement base terrazzo. The floor was fully refined with diamonds only (No Coating) and the floor 1 year later looks like the day we left it.
Cost Savings
Northeastern Junior College will not have to strip and re-wax their floor which is going to save them more than what is cost to CFS diamond polished the floor.
They loved the results so much they asked us to come back and polish a lot more terrazzo floor at the school. Our company philosophy is take care of your customers they will keep calling you back. This is another reason we have a 5 star rating on Google.
Doing this type of work is not easy. It takes years of training, quality head pressure machines and diamonds, attention to detail and best of all very high quality employees.
If your business or governmental organization needs a great looking, durable and low cost floor solution, contact us.
View More Polished Concrete Jobs for Schools